Gnocchi with pumpkin seed pesto
Unbelievable but true, the gnocchi with homemade pumpkin seed pesto are ready in only 20 minutes.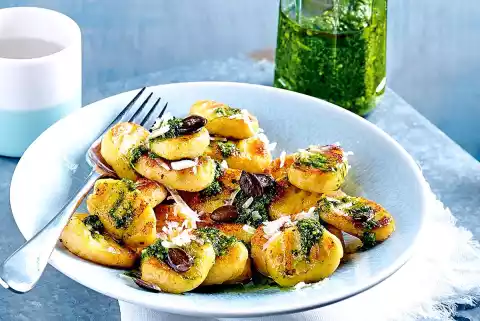 Ingredients
60 g Pumpkin seeds

40 g (piece) Parmesan

1/2 bunch flat leaf parsley

1 collar Basil

2 Garlic cloves

100 ml Olive oil

7-10 Tbsp Salt

7-10 Tbsp Pepper

7-10 Tbsp Nutmeg

3 TABLESPOONS Butter

1 pck. (à 1 kg) Gnocchi (cooling shelf)
Directions
1

Roast pumpkin seeds in a pan without fat, take out and spread out to cool. Grate the parmesan finely. Wash the herbs, shake dry and pluck off the leaves. Peel garlic and chop coarsely. 2⁄3 Finely puree the pumpkin seeds, half the Parmesan, herbs, garlic and oil with a hand blender. Season to taste with salt and pepper.

2

Heat butter in a large frying pan. Fry the gnocchi for about 5 minutes until golden brown all around, season with nutmeg. Serve with pesto and sprinkle with remaining pumpkin seeds and parmesan.
Nutrition Facts