Espresso-Pannacotta
A creamy dessert, two delicious variations: For the gentlemen, the cream dessert is flavoured with coffee beans and served with chocolate sauce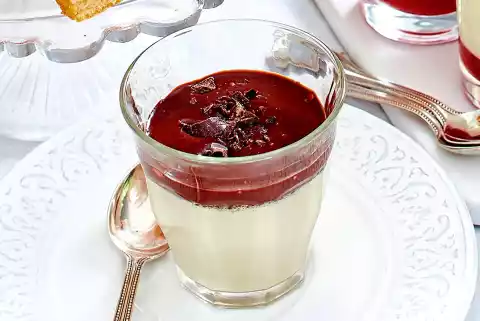 Ingredients
900 g Whipped cream

200 g Whipped cream

600 ml Milk

100 ml Milk

250 g roasted whole coffee beans

12 sheets Gelatine

200 g Sugar

200 g Dark chocolate

100 g chocolate-coated coffee beans
Directions
1

The day before For the pannacotta, bring 900 g of cream, 600 ml of milk and coffee beans to the boil in a saucepan. Remove from the heat and leave to stand for about 10 minutes.

2

Soak gelatine in cold water. Pour hot coffee cream through a sieve into a second pot. Stir in sugar. Squeeze the gelatine well, dissolve in the hot cream. Pour into twelve glasses (175 ml each) and chill for about 12 hours.

3

The next day For the chocolate sauce, heat 200 g cream and 100 ml milk. Divide the chocolate into pieces and dissolve in the hot cream. Let it cool down. Coarsely chop the chocolate-coated coffee beans. Spread the chocolate sauce on the pannacotta. Sprinkle the coffee beans on top.
Nutrition Facts