Courgette mince pan
Fancy a delicious pancake? Zucchini and minced meat make a fantastically delicious team in this recipe. This is exactly how I imagine "Teamwork" on a Monday!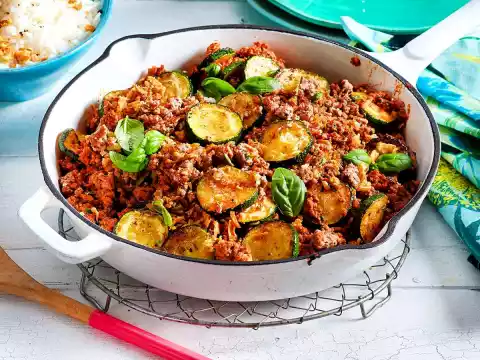 Ingredients
2 small onions

1 Garlic clove

5 TABLESPOONS Sunflower oil

800 g mixed minced meat

300 ml strained tomatoes

1 TABLESPOON Soy sauce

2 small courgettes (about 210 g each)

4 Stem/s Basil

7-10 Tbsp salt and pepper

1/2 TEASPOON Sweet peppers

3 TABLESPOONS Roasted onions
Directions
1

Onions peel, halve and finely dice. Peel garlic and chop finely. Heat 2 tablespoons of oil in a large pot. Fry the onions and garlic for about 2 minutes. Add minced meat and fry until crumbly. Add tomatoes and soy sauce and stir in. Reduce heat and simmer for about 10 minutes.

2

In the meantime, clean, wash and dry zucchini and cut them into slices about 0.5 cm thick. Heat the remaining oil in a wide frying pan. Fry the zucchini slices on both sides for 1-2 minutes. Take them out and let them drain.

3

Wash basil, shake dry, pluck leaves from the stalks and, except for a few for garnishing, cut finely. Add the zucchini slices to the minced meat and heat up. Season to taste with salt, pepper and paprika and garnish with fried onions and the remaining basil. Rice tastes good with it.
Nutrition Facts