Baked eggs in tomato nest
The Sugo is quickly cooked and with Kabanossi a piquant base for the eggs. Bake for ten minutes, done!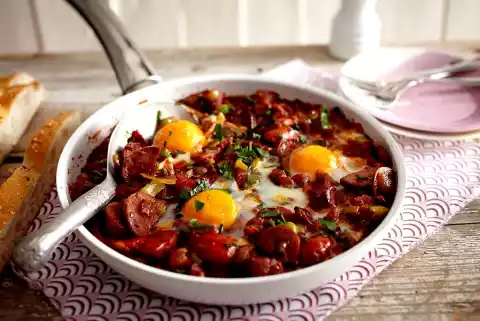 Ingredients
Directions
1

Preheat oven (electric cooker: 175 °C/circulating air: 150 °C/gas: see manufacturer). Peel and coarsely dice onions. Halve sausage lengthwise and cut into slices.

2

Heat the oil in a large ovenproof pan. Steam onions and sausage for about 5 minutes. Add the tomatoes and chop with a spatula. Simmer for another 5 minutes. Season the sauce with salt and cayenne pepper to taste.

3

Wash and chop the parsley and stir into the sauce. Beat the eggs and let them slide into the pan on top of the sauce with a little distance between them. Leave to set in a hot oven for about 10 minutes. Flatbread tastes good with it.
Nutrition Facts