Mozart cream with marzipan-chocolate hearts
Those who like Mozartkugeln will love this dessert with nougat cream, marzipan and pistachios! For guests, the dessert is served in a glass and decorated with hearts.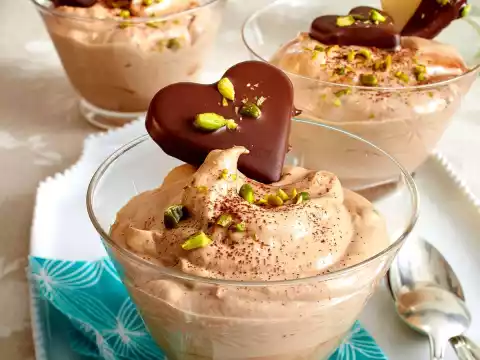 Ingredients
Directions
1

Cut the nougat into cubes. Melt with milk over a warm water bath. Pour into a bowl and let cool a little. Chop the pistachios. Whip cream until stiff, first stir 3 tbsp. into the nougat mixture.

2

Then fold the remaining cream and 30 g of pistachios into the nougat mixture. Fill cream into glasses. Sprinkle with remaining pistachios, up to 2 tsp. Chill for at least 2 hours.

3

Marzipan, roll out to a thickness of about 1 cm on a work surface dusted with icing sugar. Cut out approx. 6 small (approx. 4 cm Ø) and approx. 6 large (approx. 6 cm Ø) hearts. Knead the marzipan remains again and again and roll out again.

4

Chop the couverture, melt with coconut oil over a warm water bath. Dip marzipan hearts in it completely or partially, place them on a cake rack and let them dry. Sprinkle with remaining pistachios and allow to set.

5

Dust the cream with cocoa and decorate with marzipan hearts. Use the remaining hearts for other purposes.
Nutrition Facts