Little coconut-berry time-out
In order to escape the everyday stress, which is already under control on Mondays, often just a little something helps. In this case it is purple, sugar-free and fruity-creamy!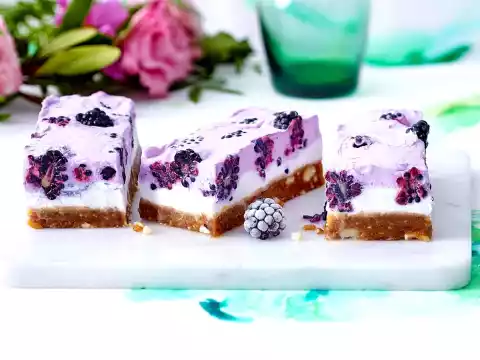 Ingredients
3 can(s) (400 ml each) Coconut milk (without additives; 65 % coconut meat; e.g. REWE Best choice)

200 g Cashew nuts

200 g Dates (without stone)

200 g dried apricots

60 g Coconut oil

2 TEASPOONS Baking cocoa

8 TSP Locust bean gum (drugstore)

2 TABLESPOONS Honey

200 g frozen blackberries

1-2 TEASPOONS "Superberry" smoothie powder (e.g. from Lebepur)
Directions
1

Chill the coconut milk for at least 12 hours or overnight. Crush cashews, dates, apricots, coconut oil and cocoa in the universal chopper in portions. Spread the date mix in a square springform pan (23 x 23 cm; alternatively round, 26 cm Ø), press lightly, chill.

2

Open coconut milk cans and with a tablespoon skim off the firm coconut flesh that has settled on top. Use the rest for example for the pumpkin soup. Mix the cream, locust bean gum and honey with the whisks of the mixer for at least 3 minutes until creamy. Spread half the cream and blackberries on the fruit base. Colour the rest of the cream with smoothie powder and spread on the white cream.

3

Chill the cake for about 4 hours. Remove from the tin, cut into slices and serve immediately. Do not be frightened, depending on the quality of the frozen berries some liquid may leak out.
Nutrition Facts