Ginger gnocchi
What unites more than crunching cookies together? Well, in the case of our shortbread, quince jelly.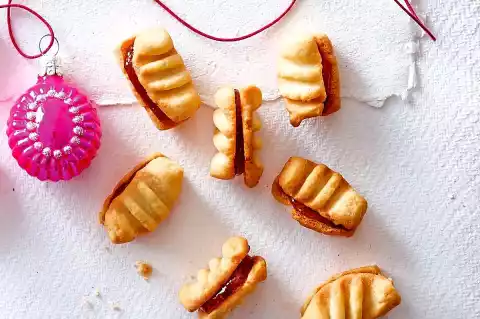 Ingredients
Directions
1

Mix butter, sugar, ginger, 1 pinch of salt and egg yolk with the whisk of the mixer for about 3 minutes until thick and creamy. Stir in 200 g flour. Pour the dough into a piping bag with a medium-sized perforated spout.

2

Preheat oven (electric cooker: 180 °C/circulating air: 160 °C/gas: see manufacturer). Line baking trays with baking paper. Spray long strands onto a floured work surface with the piping bag. Cut into pieces of approx. 3 cm length. Slightly press each piece in with the moistened prongs of a fork, then place them on the baking trays with a little space between them. Bake in a hot oven for about 8 minutes one after the other. Take out and let cool down.

3

Mix jelly with approx. 3 tbsp. water in a small pot, bring to the boil and simmer for approx. 4 minutes. Leave to cool until the jelly is firm again. Using a teaspoon, pour some jelly onto the smooth side of 1 biscuit, place a 2nd biscuit with the smooth side on top and press down lightly. Continue until the biscuits and jelly are used up. Allow to dry.
Nutrition Facts