Lemon Crinkles
If you listen carefully, you may notice the soft crackling when the delicate icing sugar crust breaks open in the oven.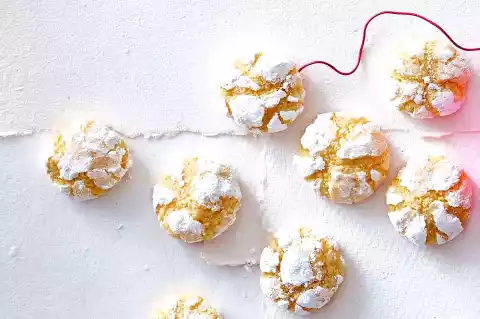 Ingredients
5 TABLESPOONS Sunflower oil

2 Eggs (Gr. M)

180 g Sugar

1 TEASPOON liquid vanilla extract

1 Organic Lemon

150 g Flour

100 g Cornmeal

7-10 Tbsp salt, turmeric

1 TEASPOON Baking Powder

50 g Icing sugar

baking paper
Directions
1

Mix oil and eggs in a blender jug on medium setting for about 1 minute. Add sugar, vanilla and lemon peel and continue mixing for a short time. Mix both types of flour, 1 pinch of salt, 2 sps. curcuma and baking powder and mix in briefly until a thick, creamy mixture is obtained. Put the mixture in a cool place for about 2 hours.

2

Preheat oven (electric cooker: 180 °C/circulating air: 160 °C/gas: see manufacturer). Line two baking trays with baking paper. Sift icing sugar into a bowl. Use moistened fingers to form balls about the size of walnuts from the mixture and roll them in the icing sugar. Place the balls on the baking trays and bake in the hot oven for about 13 minutes one after the other. Take out and let cool down.
Nutrition Facts