Feel-good pizza with cauliflower base
Who actually said that pizza can't be healthy? With the low carb version we prove the opposite and crunch full and satisfied even without flour and yeast.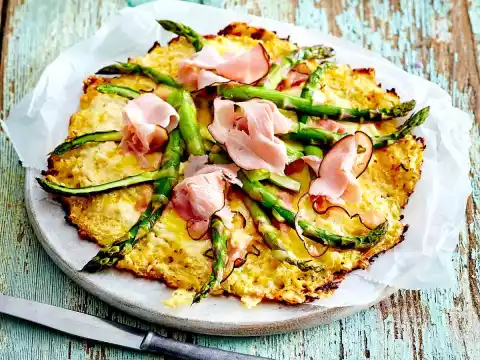 Ingredients
1 kg Cauliflower

200 g Gouda (play)

2 Eggs (Gr. M)

7-10 Tbsp Salt

500 g green asparagus

150 g Fresh cream

2 TABLESPOONS Olive oil

100 g thinly cooked ham

baking paper
Directions
1

Preheat oven (electric cooker: 200 °C/circulating air: 180 °C/gas: see manufacturer). Line two trays with baking paper. Clean, wash and coarsely grate the cauliflower and place it on a tray. Bake in a hot oven for about 10 minutes. Take out, let cool down a little.

2

Then press out well in a tea towel. Grate cheese coarsely. Mix cauliflower, cheese, eggs and salt. Form half of the cauliflower mixture on each baking tray to form a pizza base. Pre-bake in the hot oven one after the other for about 15 minutes.

3

Wash the asparagus, cut off the ends and cut the stalks in half lengthwise. Spread the crème fraîche and asparagus on the cakes and bake again for about 20 minutes each. Sprinkle each pizza with 1 tbsp. oil and cover with ham.
Nutrition Facts