Cheesecake in lace look
A real piece of jam couture! - The more filigree the lace decoration is designed with the colour power of blueberries, the greater the temptation of the cool cream cheesecake even for figure-conscious fashionistas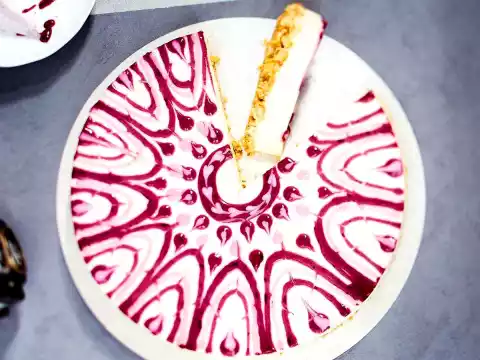 Ingredients
100 g Butter

150 g Rusk

1/2 Organic Lemon

7 sheets Gelatine

200 g Fresh cream

4 pck. (175 g each) Yoghurt cream cheese

1 TABLESPOON Lemon juice

180 g Icing sugar

1 TEASPOON Blueberry jam (without pieces)

baking paper

1 large freezer bag

2 Disposable syringe bag
Directions
1

Line a springform pan (26 cm Ø) with baking paper. Melt butter. Put the rusk into a freezer bag, close it and crumble it finely with a dough roll. Mix butter, crumbs and lemon zest well. Fill the crumb mixture into the tin and press down evenly as a base. Place the dish in a cool place for about 30 minutes.

2

Soak gelatine in cold water. Mix crème fraîche, cream cheese, lemon juice and icing sugar with the whisk of the mixer until smooth. Squeeze the gelatine and dissolve it carefully in a small pot at low heat. Gradually stir in 3-4 tablespoons of cream cheese cream, then stir everything into the rest of the cream.

3

To decorate, colour the cream cheese with jam. For this, mix 1 teaspoon jam and 40 g cream and mix 50 g jam and 40 g cream. Pour light and dark cream into a disposable piping bag. Pour the rest of the cream cheese cream onto the crumb base and smooth it down. Cut off the tips of the piping bags so that a small hole is created. Paint a lace pattern on the cake with the coloured creams. Chill the cake for about 5 hours.
Nutrition Facts