Apple puree brownies with cranberry and cornflakes crunch
Dark chocolate + fruit - butter = low fat! A really good calorie calculation that decimates hip gold without reducing the enjoyment factor. Oh, math can be so yummy!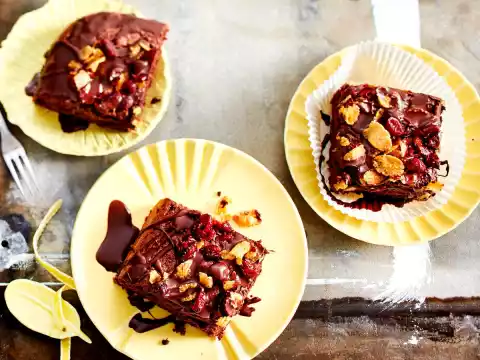 Ingredients
7-10 Tbsp Grease

some Flour

200 g Flour

4 Eggs (Gr. M)

7-10 Tbsp Salt

150 g Sugar

1 pck. Vanilla sugar

350 g Applesauce (without sugar; glass)

50 g Baking cocoa

1 TEASPOON Baking Powder

100 g Fine dark chocolate (at least 70 % cocoa)

50 g dried cranberries

30 g Cornflakes
Directions
1

Preheat oven (electric cooker: 180 °C/circulating air: 160 °C/gas: see manufacturer). Grease a square springform pan (approx. 24 x 24 cm) and dust with flour. Separate the eggs. Beat the egg white and 1 pinch of salt until stiff, add sugar little by little. Keep stirring until the sugar is dissolved. Mix egg yolks, vanilla sugar and applesauce. Mix 200 g flour, cocoa and baking powder. Stir briefly into the egg yolk mixture. Fold in the beaten egg white in two portions.

2

Fill the dough into the mould and smooth it down. Bake in a hot oven for 25-30 minutes. Remove and let cool on a cake rack.

3

Chop the chocolate and melt in a hot water bath. Roughly chop the cranberries. Remove the cake from the mould. Spread about half of the liquid chocolate on the cake. Sprinkle with cornflakes and cranberries. Drizzle the rest of the chocolate over the cake.
Nutrition Facts