Chocolate pear cake with tender meringue
The high cocoa content of dark chocolate contains a lot of flavonoids, so-called secondary plant compounds, which can have a positive effect on the cardiovascular system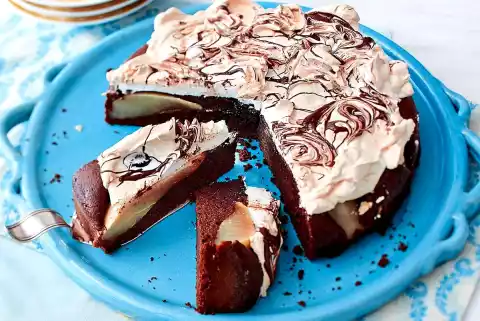 Ingredients
50 g Fine dark chocolate (at least 80 % cocoa content)

25 g Fine dark chocolate (at least 80 % cocoa content)

2 Pears

2 Eggs (Gr. M)

175 g demerara sugar

225 ml Soy drink

5 TABLESPOONS neutral oil (e.g. sunflower oil)

200 g Flour

2 TEASPOONS Baking soda

2 TABLESPOONS Baking cocoa

7-10 Tbsp Oil and flour

75 g white sugar

1 TEASPOON White wine vinegar
Directions
1

Divide 50 g chocolate into pieces, melt in a hot water bath and allow to cool slightly. Peel and quarter the pears and remove the core.

2

Separate the eggs for the dough. Chill the egg whites. Beat the egg yolks and brown sugar until creamy. Stir in liquid chocolate. Add soy drink and oil while stirring. Mix flour, baking soda and cocoa and fold in quickly. Spread the dough in a springform pan (26 cm Ø) greased with oil and dusted with flour. Spread pear quarters on top. Bake in a preheated oven (electric cooker: 180 °C/circulating air: 160 °C/gas: see manufacturer) for approx. 40 minutes. Divide 25 g chocolate into pieces and melt in a hot water bath.

3

For the meringue, beat the egg whites until stiff, adding white sugar. Finally stir in vinegar.

4

Remove the cake from the oven. Spread the meringue mixture with a spoon and pull up small peaks. Drizzle melted chocolate over it and marble everything with a fork. Continue baking for 10-15 minutes. Let it cool down.
Nutrition Facts