Brioche pudding cake with apricots
Sim Sala Bim! Milk has magical powers: as vanilla sauce it transforms leftover breakfast brioche into a so-what-of-yummy coffee-table cake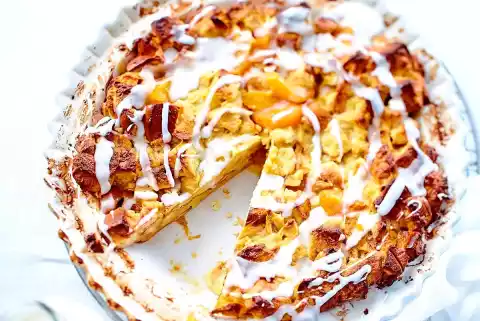 Ingredients
7-10 Tbsp Grease

7-10 Tbsp Flour

500 g Brioche or yeast plait (from the previous day)

1 can(s) (425 ml each) Apricots

4 Eggs (Gr. M)

60 g Sugar

250 ml Milk

1 pck. Vanilla sauce powder (for 1/2 l; for cooking)

80 g Icing sugar
Directions
1

Preheat oven (electric cooker: 180 °C/circulating air: 160 °C/gas: see manufacturer). Grease a pie mould (approx. 1.2 l capacity) and dust with flour. Dice yeast plait 1-2 cm in size. Drain apricot halves, cut in half.

2

Mix eggs, sugar, milk (up to 2 tbsp. for the icing) and sauce powder. Mix carefully with yeast cubes and apricots until the cubes are soaked. Pour into the mould and bake in a hot oven for about 50 minutes.

3

Remove the cake and let it cool down for about 30 minutes. Mix icing sugar and 2 tbsp. milk to a glaze and drizzle over the cake.
Nutrition Facts