Bucatini with baked peppers
The list of ingredients is as short as the preparation is uncomplicated. Because oriental mergue sausages and ajvar paprika already have plenty of spices on board.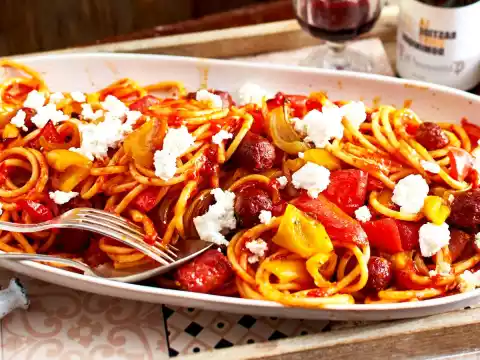 Ingredients
3 Peppers (e.g. red, yellow)

4 Merguez (spicy lamb sausages; à approx. 75 g)

400 g Bucatini

200 g Ajvar (preparation of paprika)

150 g Ricotta

2 Onions

2 Garlic cloves

3 TABLESPOONS Olive oil

7-10 Tbsp Salt

7-10 Tbsp Pepper

7-10 Tbsp Herbs of Provence
Directions
1

Preheat oven (electric cooker: 200 °C/circulating air: 180 °C/gas: see manufacturer). Clean, wash and cut the peppers into large pieces. Peel onions and cut into slices. Peel garlic and chop finely. Cut Merguez into pieces.

2

Spread the paprika, onions and sausage on a baking tray. Drizzle with oil. Season with salt, pepper and 1-2 teaspoons of herbs of Provence. Roast in a hot oven for about 20 minutes.

3

Bring 3-4 l salted water (1 teaspoon salt per litre) to the boil. Cook pasta in boiling salted water according to package instructions. Drain, collecting approx. 50 ml pasta water. Mix bucatini with ajvar, pasta water, paprika, onion and merguez and serve. Crumble the ricotta over it.
Nutrition Facts