Spinach gnocchi stew with Merguez
Here goes's about the sausage! Oriental spiced, Merguez gives a pleasant spiciness to the soup, which has been refined in no time.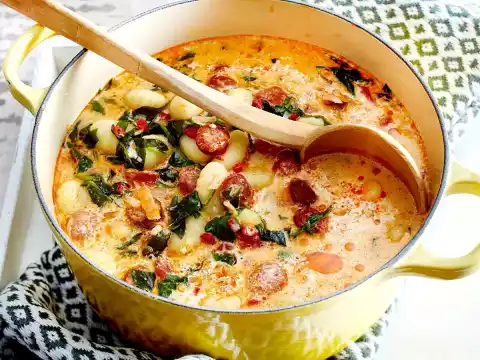 Ingredients
200 g young leaf spinach

2 Onions

400 g Merguez (coarse sausage)

1 glass (370 ml) Roasted peppers

1 TABLESPOON Olive oil

1 glass (400 ml) Poultry stock

1 package (500 g) Gnocchi (cooling shelf)

200 g Whipped cream

7-10 Tbsp Salt

7-10 Tbsp Pepper
Directions
1

Clean and wash the spinach, drain well and chop roughly. Peel and roughly chop the onions. Cut the sausages into slices. Drain peppers and chop finely.

2

Heat the oil in a large pot. Brown the sausage for about 5 minutes. Add onions and fry for about 3 minutes. Deglaze with stock and 600 ml water and bring to the boil. Stir in paprika, gnocchi and cream, bring to the boil again and simmer on low heat for about 5 minutes.

3

Stir in the spinach about 2 minutes before the end of cooking time and let it collapse in the stew. Season to taste with salt and pepper and serve.
Nutrition Facts