Knobbly muffin-bacon rolls
Funny eye-catcher and tasty side dish at the same time: the loose yeast pastry is simply baked in the muffin tray and goes well with both meat and salad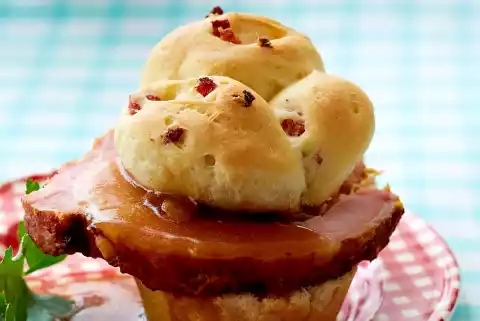 Ingredients
750 g Flour

some Flour

2 TABLESPOONS Sugar

1 TEASPOON Salt

1 cube (42 g each) Yeast

200 ml Oil

7-10 Tbsp Grease

125 g Bacon cubes

7-10 Tbsp wooden skewers

baking paper
Directions
1

Mix 750 g flour, sugar and salt in a large bowl. Dissolve the yeast in 450 ml lukewarm water. Add yeast mixture and oil to the flour. Knead everything with the dough hooks of the mixer to a smooth dough. Cover and leave to rise in a warm place for about 45 minutes.

2

Grease the recesses of a muffin tray (12 recesses) well. Knead yeast dough with floured hands on some flour again. Knead in the bacon cubes. Cut the dough in half and form a roll (approx. 36 cm), cutting each roll into approx. 36 slices. Form the dough slices into small balls. Cover the dough and let it rise for about 15 minutes. Put the dough balls into the hollows of the muffin tray.

3

Bake in a hot oven (electric cooker: 200 °C/circulating air: 175 °C/gas: see manufacturer) for approx. 20 minutes. Remove from the oven, allow to cool for approx. 10 minutes and remove from the trays. Bake another 12 rolls from remaining dough balls.

4

Spread 3 dough balls close to you in a hollow of the muffin tray.
Nutrition Facts