Apple and sour cream slices with crumbles
Good things can be so simple: sprinkles, apples, sour cream and crumbles, put them in the oven - and then just let them be five degrees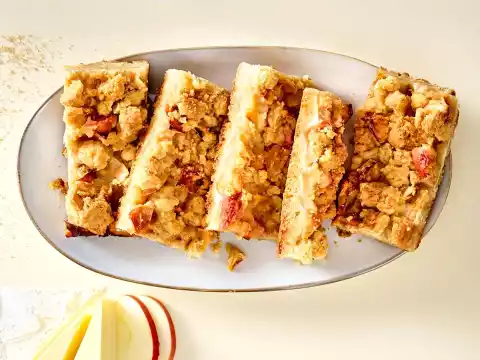 Ingredients
750 g Flour

500 g salted butter

300 g demerara sugar

2 TABLESPOONS demerara sugar

1.2 kg Apples (e.g. Elstar)

300 g Schmand

baking paper
Directions
1

Put the flour and 300 g sugar in a mixing bowl. Melt butter and add. Knead into crumbles with the dough hooks of the mixer.

2

Preheat oven (electric cooker: 180 °C/circulating air: 160 °C/gas: see manufacturer). Line a baking tray with baking paper. Wash and quarter apples and cut them into pieces of approx. 2 cm. Approximately 2⁄3 Press crumbles on the tray to form a base.

3

Mix sour cream with 2 tablespoons of sugar and spread on the dough base. Spread apples on top. Sprinkle the rest with crumbles. Bake in a hot oven for about 50 minutes, remove and let cool off.
Nutrition Facts