Three kinds of milk cake with caramel icing
Cake or dessert? Preferably both. The sponge cake soaked in cream and condensed milk is so juicy that it can easily be eaten as dessert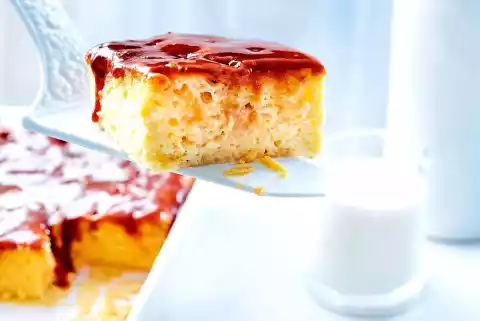 Ingredients
Directions
1

Preheat oven (electric cooker: 180 °C/circulating air: 160 °C/gas: see manufacturer). Grease an ovenproof dish (approx. 17 x 23 cm). Separate the eggs for the sponge mixture. Beat the egg whites until stiff, finally add 1 pinch of salt and 75 g sugar. Stir in the egg yolks one after the other. Mix flour and baking powder. Sift over the egg mixture and fold in. Stir in 80 g cream. Smooth the mixture in the tin and bake in a hot oven for about 25 minutes.

2

For the icing, mix 120 g cream, condensed milk and sweetened condensed milk with the whisks of the mixer for about 2 minutes. Remove the sponge cake from the oven and prick with a wooden stick at a distance of approx. 1 cm. Spread the icing on the cake by the spoonful. Leave to cool, chill for about 2 hours.

3

For the caramel, caramelise 100 g sugar until golden brown. Add 100 g cream and simmer until the caramel has dissolved. Cut the cake into pieces and spread the caramel on top. Chill for about 1 hour.
Nutrition Facts