Gnocchi pan with feta cracker dip
This gnocchi pan with zucchini is quickly conjured up and enchants with its creamy feta dip. So you are ready for a feast in 30 minutes!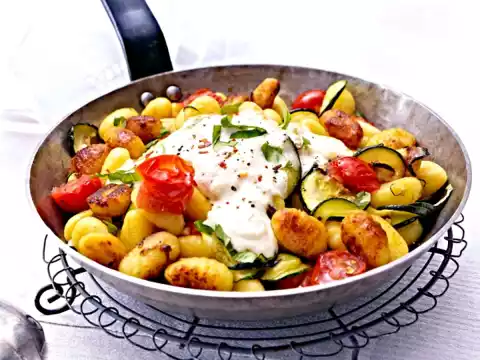 Ingredients
1 pack of (600 g) fresh gnocchi (refrigerated shelf)

250 g cherry tomatoes

150 ml Milk

2 Cracker

1 (approx. 250 g) Courgette

200 g creamy feta

2 TABLESPOONS Oil

7-10 Tbsp Salt

7-10 Tbsp Java peppercorn
Directions
1

Clean, wash and thinly slice the zucchini. Wash and halve the tomatoes.

2

Heat the oil in a large frying pan. Fry the gnocchi for 2-3 minutes. Add the zucchini slices and fry for about 3 minutes more. Fry the tomatoes briefly. Season with salt and pepper.

3

Crumble the feta and crackers and puree with milk. Season feta dip with pepper and serve with the gnocchi pan. Fresh basil tastes good with it.
Nutrition Facts