Coconut Peak
What a view for the Advent ... The tips of the small coconut-rum macaroons are covered with pineapple icing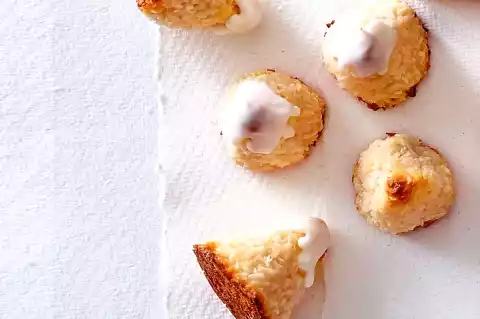 Ingredients
4 Protein (Gr. M)

200 g Coconut flake

180 g Sugar

3 TABLESPOONS white rum

50 g Icing sugar

3-4 Tsp Pineapple juice

baking paper
Directions
1

Mix egg white, grated coconut, sugar and rum in a metal bowl. Knead constantly in a hot water bath with a dough scraper for about 15 minutes. The mixture is ready when it is sticky and there is no more liquid sugar at the bottom. Let the coconut mass cool down for about 20 minutes.

2

Preheat oven (electric cooker: 180 °C/circulating air: 160 °C/gas: see manufacturer). Line a baking tray with baking paper. Form balls out of the coconut mass with moistened hands. Roll them slightly on the baking tray to form 4-5 cm high cones. Bake in a hot oven for 12-15 minutes until they get brown tips. Take them out and let them cool down.

3

Mix icing sugar in a bowl with pineapple juice to a thick icing. Dip the tops of the coconut mountains into it, drip off and let it dry on baking paper.
Nutrition Facts