Chai snow flakes with almonds
Snowflakes, white skirts, here they come snow-covered: the fluffy cookies with egg puff, almonds and Indian tea spices like cardamom and cinnamon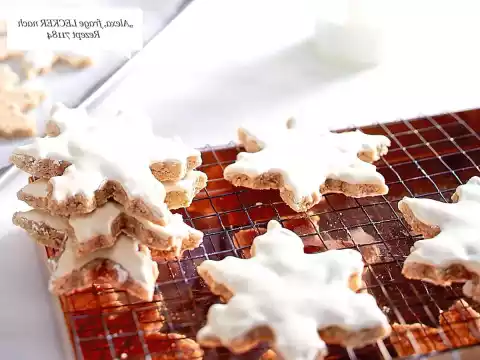 Ingredients
250 g + something Icing sugar

3 Protein (Gr. M)

7-10 Tbsp Salt

500 g ground almonds without skin

1/2 TEASPOON ground cardamom

1/2 TEASPOON Ginger

1/2 TEASPOON Cloves

1 TEASPOON Cinnamon

1 Vanilla pod

baking paper

7-10 Tbsp Cling film
Directions
1

Sift 250 g icing sugar finely. Beat the egg whites until stiff, adding 1 pinch of salt and the icing sugar. Take off approx. 5 tbsp. of the egg whites to coat the snowflakes later and put them in a cool place.

2

Mix almonds, cardamom, ginger, cloves and cinnamon and add to the remaining egg whites with vanilla pulp. Knead with the dough hooks of the mixer to a smooth dough.

3

Preheat the oven (electric cooker: 150 °C/circulating air: 130 °C/gas: see manufacturer) and line two baking trays with baking paper. Dust two large pieces of cling film (each approx. 30 x 45 cm) thinly with icing sugar. Roll out the almond paste between the sheets 0.5-1 cm thick. Cut out snowflakes (approx. 8 cm Ø each), knead the rest of the dough again briefly, roll out and cut out.

4

Spread the snowflakes on the baking trays and brush them with the cold egg whites. Bake in the hot oven for about 15 minutes, one sheet at a time. Let cool down briefly. Carefully remove from the paper and let it cool down on a cake rack.
Nutrition Facts