Baked with dark intent: Dark chocolate rogue
Just always in a bitter mood? Then this wickedly chocolaty banana bread with caramel nuts is just what you need - even if your dungarees get tight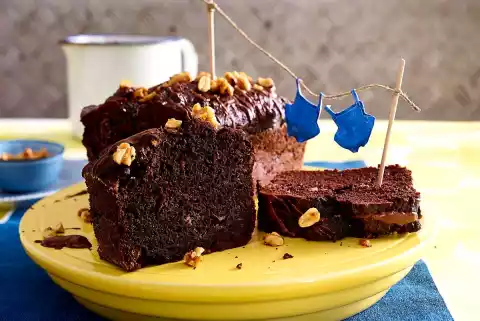 Ingredients
100 g Butter

200 g Flour

75 g Peanut cream

1 TEASPOON Baking soda

7-10 Tbsp Salt

50 g Baking cocoa

100 g Dark chocolate

4 ripe bananas (about 200 g each)

2 Eggs (Gr. M)

100 g demerara sugar

1 TABLESPOON demerara sugar

2 TABLESPOONS salted roasted peanuts

50 g Milk chocolate

baking paper
Directions
1

Preheat oven (electric cooker: 180 °C/circulating air: 160 °C/gas: see manufacturer). Grease a box mould (25 cm long; approx. 1.7 l capacity) and dust with flour. Melt 100 g butter and peanut cream. Mix 200 g flour, baking soda, 1 pinch of salt and cocoa. Chop dark chocolate. Peel the bananas and finely mush them with a fork. Mix with butter mix, eggs and 100 g sugar. First stir in the flour mixture, then the chopped chocolate.

2

Fill the dough into the mould and smooth it down. Bake in a hot oven for 50-60 minutes. Take out, let rest in the form for about 10 minutes, then turn out. Let it cool down on a cake rack.

3

Melt 1 tablespoon of brown sugar in a frying pan. Stir in nuts, caramelise slightly. Pour onto baking paper and allow to cool. Chop milk chocolate, melt in a hot water bath and spread on the cake with a spoon. Sprinkle with nuts.
Nutrition Facts