Vanilla Pudding Cake
This borders on magic: In the oven, two delicious layers of cake are formed from one dough. That's how the mysterious custard cake succeeds!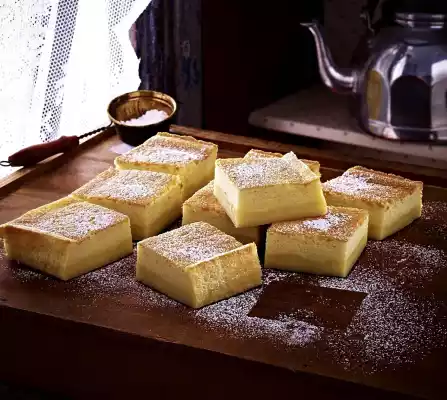 Ingredients
125 g Butter

4 Eggs (size M)

175 g Sugar

1 TEASPOON Vanilla extract

125 g Flour

500 ml Milk

2 TABLESPOONS Icing sugar

7-10 Tbsp Grease

baking paper
Directions
1

Grease a rectangular cake tin (18 x 24 cm) and line it with baking paper. Melt butter in a pot. Separate the eggs. Beat the egg yolks and sugar with the whisk of the hand mixer until creamy.

2

Gradually stir butter and vanilla extract into the egg-sugar mixture. Carefully fold the flour into the mixture. Warm the milk in a pot lukewarm. Stir into the mixture. Beat the egg whites until stiff and fold into the mixture with a whisk.

3

Pour the cream into the mould and bake in the preheated oven (electric cooker: 175 °C/ convection oven: 150 °C/ gas: see manufacturer) on the bottom shelf for 50-60 minutes. Cover the cake if necessary after approx. 30 minutes.

4

Leave to cool for 2 hours. Dust with icing sugar before serving.
Nutrition Facts